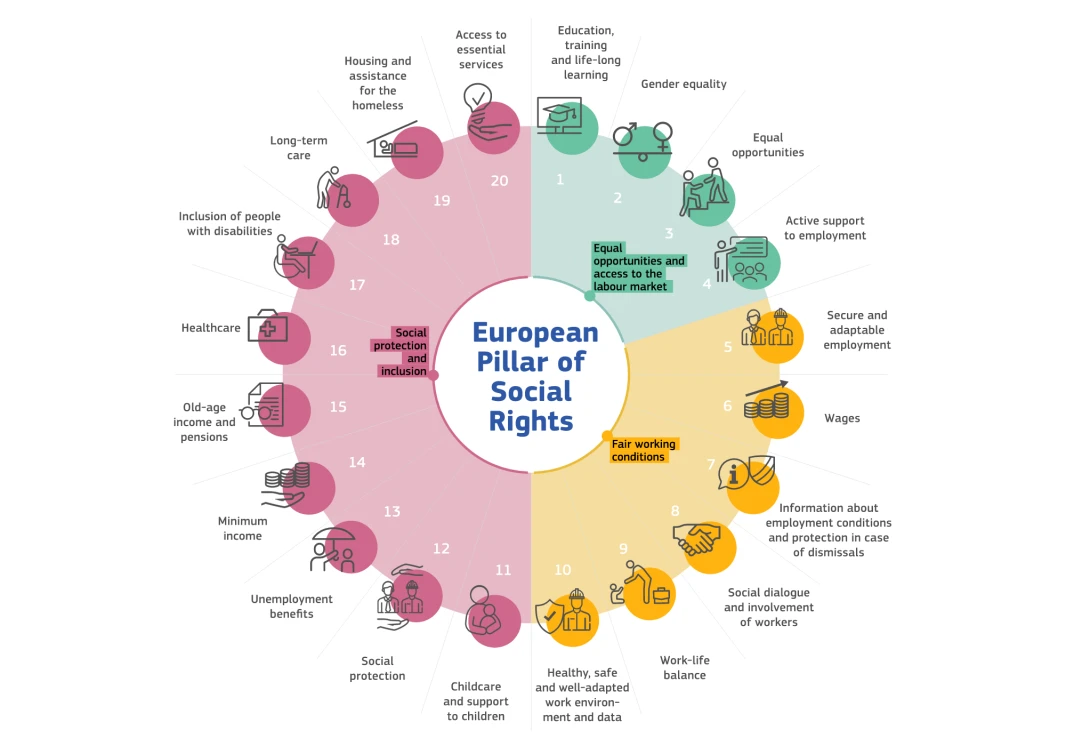 Key principles
YES Forum's and its members' activity contributes to the first chapter of the European Pillar of Social Rights: "Equal opportunities and access to the labour market". More specifically, we participate in the implementation of the following principles:
Education, training and life-long learning
All members of the YES Forum work with young people who are disadvantaged in different ways and they have a long standing working experience with the target group.
Through education, training and life-long learning activities, the members provide young people with the right skills that allow long term development growth. Thus they break the intergenerational cycles of disadvantage, promoting social inclusion and combating poverty.
Gender equality
As we work towards providing equal opportunities to all young people to be able to enter the labour market, we recognise that young women might face even more barriers. As mentioned in the Council Recommendation A Bridge to Jobs – Reinforcing the Youth Guarantee, "caring responsibilities (…) can lead to an increase in the gender employment gap with lasting consequences throughout women's lives." We understand that gender issues and gender role at the work place cannot be left out in the discussion with young people.
Equal opportunities
As highlighted by the European Social Rights Pillars Action Plan, the YES Forum is also convinced that "diversity in our society and economy is a strength" . That is why the work of the members of the YES Forum focus on including all young people with various backgrounds and needs into their activities.

The young people addressed by the work of the members of the YES Forum ranges from those with learning and/or educational difficulties, youth from deprived areas, as well as youth affected by poverty and first generation students.
Active support to employment
The aim of all our activities is to support and to empower disadvantaged young people in their transition to adulthood. The youth service providers, members of the YES Forum, provide tailor-made assistance to young people, improving their employment prospects.

Their strong expertise with all kinds of difficulties youngsters can encounter enable partners to accompany the youngsters with fewer opportunities in the most effective way, e.g. motivating them, building a relationship based on trust, or adapting activities to their learning difficulties